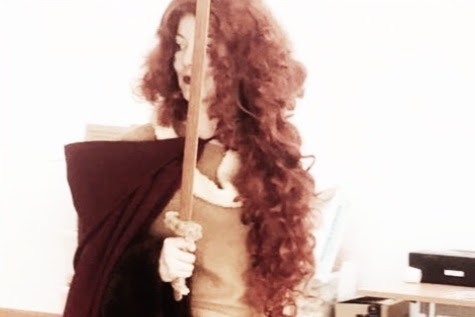 Who was Boudicca and how did she come to play such an important role in Roman Britain?
Boudicca was queen of the Iceni people of Eastern England and led a major uprising against occupying Roman forces.
Following the death of her husband Prasutagus, ruler of the Iceni people, Boudicca led an uprising against the Romans, who now occupied the land, confiscating the property and wealth of the Iceni people.
Boudicca became the leader of the Iceni tribe and under her rule, they successfully defeated the Roman Ninth Legion and destroyed the capital of Roman Britain, then Colchester in Essex. They went on to destroy London and Verulamium (St Albans). Finally, Boudicca was defeated, many Britons were killed and Boudicca is thought to have poisoned herself to avoid capture. The site of the battle, and of Boudicca's death, are unknown.
We felt compelled to make Boudicca the central character in our Roman workshop, prolific at a time when only men commanded armies. Her bravery, leadership and sheer strength, broke all the rules!
Why use Boudicca for a Roman Workshop?
During this workshop, with a little poetic licence, Boudicca enlists the children to help her learn more about the Romans, exploring their disciplines to take back to her own tribesmen. Together with the children, she learns and practices the different formations for battle, looks at Roman religious beliefs and even explores what and how, a Roman ate!  By comparing the Romans to Boudica's own Celtic people, the children get a chance to learn about the Roman invasion from a different perspective.
The children certainly seem to enjoy it, but don't take our word for it….
The Children's Verdict…
kindly provided by Coldfall School following a recent visit May 2019
"I liked Guess the God because it was really fun and we got topretend we were gods!" – S
"I liked the part when Boudicca  taught us about gladius and scootum!" – A
"I liked how we got to do all the formations and stuff that they did." – G
"I liked the 10- second object game cause we had to discuss it as a team." – F
"I liked how Boudicca's personality was always exciting and youwouldn't know what was going to happen next!" – E
"I liked how we learnt about the Romans more but in a fun way!We got to do practical stuff instead of just having a textbook in front of us." – H
"I really liked the Guess the God game cos you could be really dramatic, especially if you were one of the people in the picture!"-T

 …and the teachers thoughts!
"They enjoyed the actor who played Boudicca and how believable she was. They also enjoyed watching their peers follow instructions and then joining in to help".
"They loved learning the terms in vulgar latin (which also helped me as we have planned to do marching as an exit point performance to parents) to march and turn etc. They also really enjoyed the god human clay activities as it linked to what we had learnt that week in English."
"The c