End the school year on a high with a history WOW day for Key stage 1, 2 or the whole school!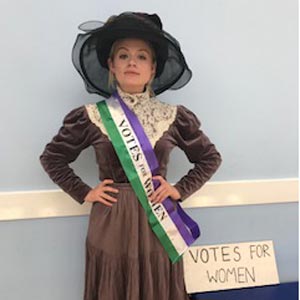 For June and July only, we will be visiting schools at a special reduced day rate of £350 + VAT and timetabling up to 6 workshops* potentially covering years 1-6. With an average of 30 children per class, this equates to less than £2 per child!
Engage and Inspire your children with a drama workshop this summer term. Choose from, The Suffragettes, The Victorians, The Great Fire of London, WW1, WW2, or maybe The Tudors to name but a few and let our professional actors bring a fun-filled workshop directly to you.  Visit ourwebsite for more information, or make an enquiry by clicking on the link below.
* Additional workshops/days and facilitators can be scheduled for larger schools.
 Year 6 Workshop
TRANSITIONING TO SECONDARY SCHOOL
The transition from Primary to Secondary school can be a challenging time for many Year 6 children. Our Celebrating the Voice workshop helps prepare children for their next big adventure, building confidence through vocal technique. During the session, we encourage and support children who may have a public speaking event, as well as exploring techniques to help with any challenges this particular period may bring. Alternatively or additionally, we are able to provide professional support rehearsing a planned school graduation event. Please get in touch through our contact page for further information.