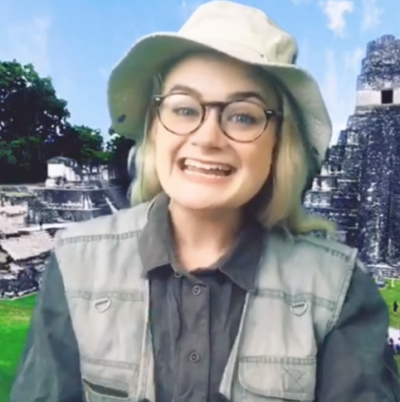 Sally Spade, an enthusiastic archeologist and history enthusiast, has been asked to write an article for 'Archeology Today' about The Maya Civilisation. Who were they? How did they live and work and what were their beliefs? Travel back in time with Sally to explore this fascinating period of history.
During this workshop, the children will:
Play our fast-paced 10 second picture game,  depicting life and famous structures during this  period.

Re-create the story of "The Hero Twins" from the Popol Vuh.

Explore Maya religion and the specific roles the Gods, Kings and Priests played during this period by playing 'Guess the God'.

Prepare with music and dance, a ritual ceremony of a willing victim for human sacrifice!
What people are saying about this workshop:
"Sometimes online sessions fail to engage and 'hit the mark' this workshop was the complete opposite. It was like 'Sally Spade' was in the classroom with us!
So much learning took place in a fun and interesting way. The children have been talking about the story of the twins lots after the session.
There was the right amount of sitting listening and moving and engaging. A very well delivered session that aided our learning in school."
"Melanie arrived at school early for us to chat with her beforehand. She had a range of interesting materials to engage the children and the acting that the children got to experience was great fun! I particularly liked that the children learned new facts from her, even though we were already at the end of our topic and that she kept going back to the facts throughout the session, which really helped the children remember them. The children loved re-enacting the story of the hero twins and enjoyed the movements to the song at the end of the session."
Other workshops you may be interested in: